IPO of the Hospital Operating and Management Platform (Established Three Years Ago) of Hony Capital in Hong Kong
Article Source:www.chinaventure.com.cn Updated: 2017-03-17 09:49:00
On March 16, 2017, Hospital Corporation of China Limited (hereinafter referred to as the Group) under control of Hony Capital was listed in SEHK, with a stock code of 3869.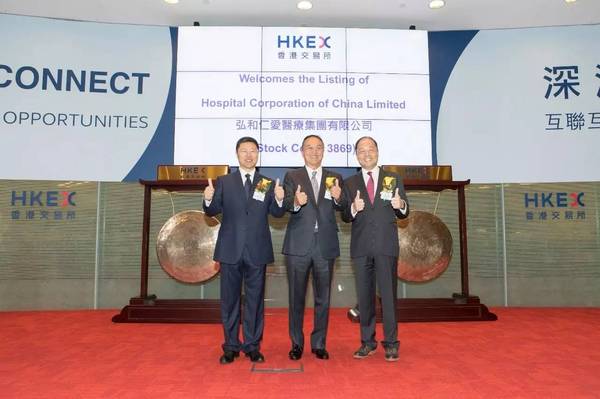 This time, the Group issued 33,334,000 shares, with 3,333,600 shared in Hong Kong, and the remaining 30,000,400 shares in international markets, raising more than 500 million yuan. 50% of the money raised will be used to acquire hospitals located in second-class or third-class hospitals or hospitals of equal scale and competitiveness in densely populated and economically developed regions, in particular hospitals located in the Yangtze River Delta, the Pearl River Delta, and the Bohai Economic Rim.
It must be noted that, up to the time of being listed in SEHK, the Group has just been established for three years. The Group mode is an innovation of Hony Capital in investment in the medical field. Hony Capital aims at developing the Group into a top hospital management group in China.
During interview by a reporter of chinaventure.cn, Zhang Xiaopeng, Executive Director and CEO of the Group, said, "efforts will be made to create best hospitals in the neighborhood and build a regional medical and healthcare service center supported by hospitals. In the future, the Group will integrate medical resources in surrounding areas through further merging in China, and make efforts to expand the medical and healthcare services, family medical services, and health management services, so as to build a national medical service network."
IPO in Hong Kong After Acquisition Two Years Ago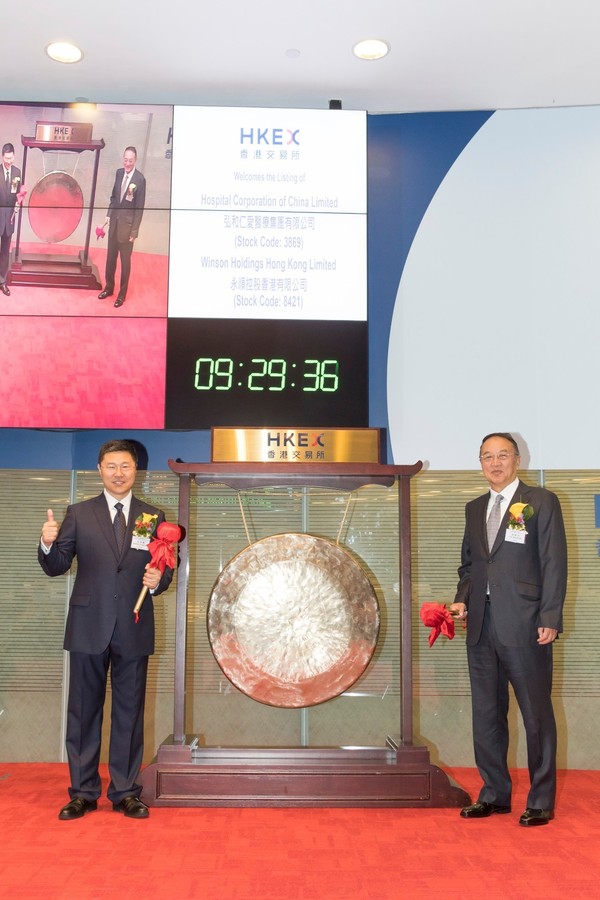 On October 8, 2014, Hony Capital announced its acquisition of Yangsi Hospital, the largest private hospital in Shanghai, through its medical group Hospital Corporation of China Limited.
Up to then, there was still little knowledge about the Group and the financial details of the acquisition. Twenty days later, the Hony Capital Global Annual Meeting 2014 was held in Shanghai, on which Hony Capital officially announced the establishment of the Group, a professional hospital investment and management platform through which the strategies of Hony Capital in the medical industry are realized, which marked accelerated expansion of Hony Capital in the big health industry.
However, the Group gradually faded out of public view later and shielded interaction with the outside world, so that few people knew that the Group had submitted an application for main board listing in SEHK on June 30, 2016.
It is not until November 14, 2016 on which day Zhao Linghuan, President of Hony Capital, mentioned the IPO of the Group on the Fourth Hony Capital Forum did people know that the Group had marched into the capital market.
As disclosed in the prospectus of the Group, on May 7, 2014, Hony Capital signed equity transfer agreement with minority shareholders of Weikang Investment and acquired 80% of shares of Weikang Investment at a total price of 1.0384 billion yuan. The acquisition was finished on September 30, 2014. Before that day, Weikang Investment was the founder and the only shareholder of Yangsi Hospital.

Weikang Investment was founded on April 15, 2002 and established Yangsi Hospital in January 2007 to provide management and consultation service. According to relevant data, Yangsi Hospital is the largest non-for-profit second class comprehensive private hospital located in Pudong, Shanghai.

In January 2014, Weikang Investment acquired Fuhua Hospital and Fuhua Hospital became a wholly-owned subsidiary of Weikang Investment to provide comprehensive medical services. Fuhua Hospital was established on October 17, 2007 and was a non-public profiting comprehensive hospital providing clinic care, nursing and rehabilitation services.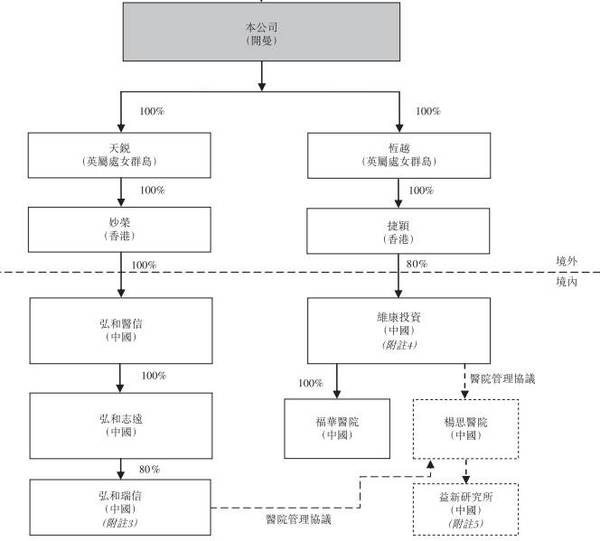 Architecture of the Group
Up to now, most of the Group revenues come from Yangsi Hospital and Fuhua Hospital. In the first nine months in 2015 and 2016, the revenues of the group were 142.5 million yuan and 115.4 million yuan respectively.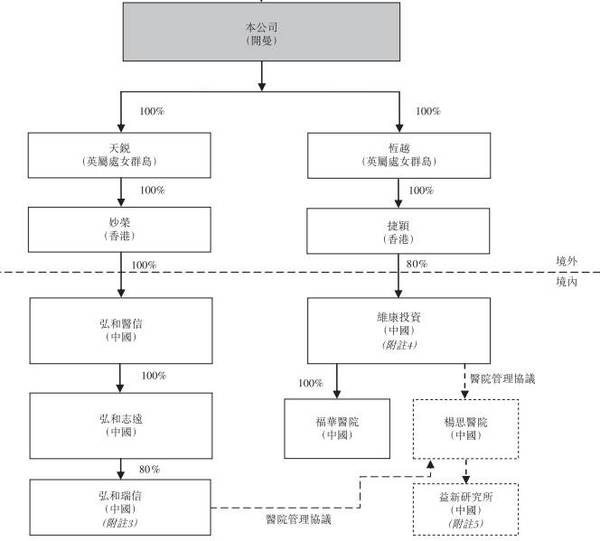 Business Architecture of the Group
Entrepreneur vs. innovator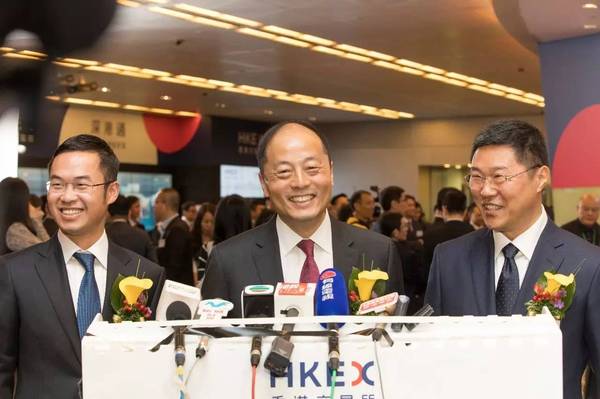 Hony Capital thinks Zhang Xiaopeng more as an entrepreneur who is bold and resolute in the health and medical field. Zhao Linghuan emphasized in multiple situations that efforts shall be made to develop the platform with long term and sustainable investment of large volume.
According to Zhao Linghuan, Board Director of the Group, "Hony Capital is optimistic about historical opportunities in the medical service industry in the long term, and innovates the investment mode in the field through the Group. We think the group mode is highly efficient and reproducible, marking a new start for the long term multiple-round investments of large volume. We will create a top medical management group in China".
Zhang Xiaopeng thinks himself more as an innovator. He hopes that hospital operation can focus on care for health again; the Group can attract talents experienced both in medical care and management; and a medical service management platform providing systematic, consistence and quality health care services can be established by continuous acquisition of hospitals of high qualification and good infrastructure.
Acquaintances always evaluate Zhang Xiaopeng as being confident, professional, and persuasive. However, Zhang Xiaopeng told the reporter that it was not that easy to be persistent in two years.
On September 30, 2013, Zhang Xiaopeng submitted his letter of resignation, resigned from the frontline diagnosis and management post in which he had over 30 years of experience. He joined Hony Capital and took charge of establishing the group, formulating the group developing strategies, and performing hospital investment and acquisition. Before joining Hony Capital, Zhang Xiaopeng served as an assistant to the president of Beijing Cancer Hospital and medical vice president from 2001 to 2011. He graduated from China Medical University with a bachelor degree in medicines in 1982, a master degree in medicines in 1987, and a doctor degree in medicines in 1996. He has rich clinic and management experience.
At that time, Zhang Xiaopeng not only had to build his team, formulate strategies, and cultivate the team, but also had to make great efforts to manage the newly acquired Yangsi Hospital.
Work Together for the Hundred-day Plan
"Yangsi Hospital was under great challenge at that time," recalled by Zhang Xiaopeng. Due to establishment of two Class A public hospitals around, Yangsi Hospital had a great patient flow decrease and a big employee turnover, with the turnover rate of doctors and nurses of 14% and 22.9% respectively.
To solve the problem, Zhang Xiaopeng and his team made a Hundred-day plan which required that progress of each job must be recorded on a daily basis since the date of closing. "The first 100 days after investment are very important for us to establish mutual trust and consensus with employees of the hospital. Due to our efforts in this period, our performance increased three months later, which makes us more confident", as explained by Zhang Xiaopeng.
The first thing he did was to determine the future development direction for the hospital.
Zhang said, "the more important thing is to solve unknown problems, and the core unknown problem is the development direction of the hospital." According to Zhang, the success of a hospital lies in solving the problems mostly concerned by the mass. "The Group values reputation, respect to people, and care for life. Only by realizing such three missions can a hospital survive and develop in the future."
"It is our mission to protect the public's health and provide systematic, consistent and quality medical care services" is written on the walls of the offices of the Group, which is a slogan put forward by Zhang three years ago. Looking at the word "Insight" on a table in Luyuxuan Tea House in Beijing, Zhang carefully put forward the slogan and used it as a mission of the Group after discussion with Hony Capital. "It is a consensus between Hony Capital and I after three months of discussion before I joined Hony Capital," said Zhang.
Zhang further explained that, "systematic" means that the hospital shall be people-oriented, and focus on all the people instead of diseased ones; the hospital shall also pay attention to both healthy and sub-healthy people, who are our service targets. "Consecutive" means that pre-hospital, in-hospital, and post-hospital services shall be integrated together. "Quality" means that we shall provide timely, effective and safe services covering basic medical services and high-end medical services.
It is indeed a grand systematic strategy. "We can better serve patients only through consistent caring for them. If the concept is put into practice by each employee, it works," said Zhang.
Initial Victory Driven by Resource Grafting
Yangsi Hospital Is Transforming
A tremendous change occurs: employees of Yangsi Hospital begin to actively interact with the citizens and carefully study their demands, which makes the citizens think that Yangsi Hospital can provide services in their real need.
Each employee is actively working toward the goal of creating the best hospital in the neighborhood and contributes to the orientation of development direction.
"Compared with the grand blueprint two years ago, we are more confident now." Zhang is proud of outstanding performances of the hospital since he joined the Group.
As disclosed in the prospectus, the annual revenue of Yangsi Hospital in 2015 was 0.538 billion yuan, increased by 16.5% on a year-to-year base, and the annual amount of outpatients and patients leaving the hospital was 1.5 million and 19,000 respectively. Besides, the revenue structure and medical service and treatment quality of Yangsi Hospital were improved. According to a third-party survey, the hospitalized patients' satisfaction with the hospital was increased by 13%, indicating the sustainable and overall benign management of Yangsi Hospital.
The performance indicator of Fuhua Hospital has been greatly improved after structural adjustment to its development strategies and business operation. Compared to that in 2014, the annual revenue of Fuhua Hospital increased by 60% in 2015, the number of outpatients increased by 77% on a year-to-year base, and the number of patients leaving the hospital increased by 164% on a year-to-year base.
"Yangsi Hospital is changing, with better performance and lower employee turnover," said Zhang. A third-party survey shows that, the patient loyalty now is about 100%, and 45 indictors in 17 dimensions related to medical quality are greatly improved due to a series of improvement plans guided by the Group.
"Such a huge change is beyond imagination of Yangsi Hospital. In addition to investment, Hony Capital also brings training course from Legend Holdings, consultation services of Hony Capital and abundant resources from higher education institutions and the industry," said Zhang.
Top Medical Service Management Platform Based on Three Strategies
After the initial victory, Zhang Xiaopeng is now more confident in this new identity of investor for more than three years.
According to Zhang, "the over-two-year medical group operation has demonstrated the excellent management capability of our team". However, he thinks more efforts shall be made to efficiently realize the initial strategic plan.
The strategic plan refers to the plan to create a marketized operating and management platform which can provide systematic, consistent and quality medical services.
According to Zhang, the listed platform aims at solving three problems: first, establishing hospitals with social capitals; second, building a hospital talent development platform, and third, promoting professional and standard hospital management.
"Specifically, the first task is to provide benefits to the public with social capitals," said Zhang, "it can hardly meet increasing medical service demands of the public just through efforts of medical professionals and investment from governments. It benefits both the country and the people to use social capitals to provide all-around medical care for the public. The first task has been basically realized due to more than two years of efforts by the Group. Our hospitals now no longer need investment from governments. Based on the management system of the Group, the service quality is improved, the management is further refined, and the pre-hospital, in-hospital, and post-hospital services are integrated. Yangsi Hospital has developed into a regional medical service center, which means that our strategic plan is successful."
"The second task is to provide a good platform for medical professionals." According to Zhang, "There are a great batch of ambitious and competent talents and elites in the medical field in China. Through the Group platform, they can break through restraints from medical systems and mechanisms, and obtain more resources required for their career development. With support from the Group, they can realize their dreams, make more contributions, and create more values."
"The third task is to efficiently make use of the open, fair, and impartial market rules to promote the professional and standard hospital management, and cultivate a batch of excellent professional managers and expert teams well satisfying the public demands." According to Zhang, "Excellent Chinese enterprises adopt efficient board meeting mechanisms and professional managers to well supervise and manage the enterprises. This experience is also applicable to the management of hospitals. It is learnt from Zhao Linghuan's management concept that the management team shall well know their duties, formulate good plans, and make great achievements." He emphasized that a win-win relationship must be created among governments, citizens, medical professionals, and social capital owners.
"If the above goals can be realized, the values of the Group are also realized," said Zhang. The goals of the Group are grand because they involve integration between hospitals and even the whole industry. Hony Capital hopes to create the platform into a platform with long term and sustainable investment of large volume.